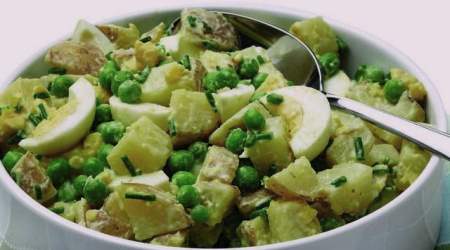 This recipe was in my local paper last weekend, and while I already have two really good potato salad recipes on here, this one looked too good to pass up. So I made it for a school picnic and it was devoured! It's really, really good! And if you divide the salad into 6 servings, each serving has only 160 calories. That's thanks to the yogurt/mayo combo in the dressing.
Ingredients:
1 1/2 lbs. Yukon Gold potatoes, unpeeled (about 4 medium)
4 eggs, hard boiled, peeled, and cooled
1/3 cup nonfat, plain Greek-style yogurt
2 Tablespoons mayo
1 Tablespoon Dijon mustard
1 Tablespoon white wine vinegar
1/2 teaspoon kosher salt salt
Freshly ground black pepper, to taste
1 cup green peas, steamed until tender (2 to 5 minutes) if fresh, or thawed if frozen
3 Tablespoons fresh chives, chopped
Directions:
Place the potatoes in a steamer basket fitted over a large pot of boiling water. Cover and steam until the potatoes are knife-tender, 25 to 30 minutes.
Remove potatoes from the steamer and allow to cool completely. Cut the potatoes into ½ -inch cubes.
Coarsely chop hard boiled eggs.
In a large bowl, whisk together yogurt, mayo, mustard, vinegar, salt, and black pepper.
Add eggs, potatoes, peas, and chives and gently fold until combined.
Cover and refrigerate to allow the flavors to meld for at least 1 hour and up to overnight.

Related Recipes