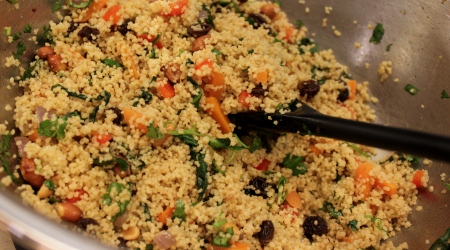 Here's a new recipe that will definitely become a regular in my house. I served it tonight as a side dish, but it also makes a fabulous vegetarian meal all on it's own (minus cooking the couscous in chicken stock). The recipe comes from Kashi.com and originally calls for rice pilaf as the grain. But I used couscous and it was delicious! You could also use quinoa, brown rice, or pearl barley if ya wanted.
Ingredients:
4 cups cooked couscous (about 2 cups dry)
1/2 cup Spanish peanuts
2 teaspoons extra virgin olive oil
3 cloves fresh garlic, minced
1/2 cup red onion, diced
1/2 teaspoon cumin
1/2 teaspoon coriander
3/4 cup raisins
1 large carrot, diced
1 cup fresh baby spinach, chopped
1 pinch kosher salt
1/4 cup water
1/2 red bell pepper, seeded and diced
1 handful fresh cilantro, coarsely chopped
4 Tablespoons soy sauce
2 Tablespoons rice vinegar
2 teaspoons fresh ginger root, grated
1 teaspoons crushed red chili flakes
2 teaspoons honey
4 teaspoons toasted sesame oil
Directions:
Cook couscous according to directions on package, using chicken stock instead of water. Set aside.
Saute garlic and onion in olive oil in a large skillet over medium heat until limp.
Add cumin and coriander and stir.
Add raisins, carrots, spinach, salt, and water. Stir well.
Cover with lid, reduce heat to low, and simmer 3 minutes.
Remove from heat.
In a large mixing bowl, combine sauteed mixture with cooked couscous, red bell pepper, cilantro, and peanuts. Mix well.
In a small bowl, combine remaining ingredients and whisk well.
Add dressing to pilaf mixture and stir well.

Related Recipes