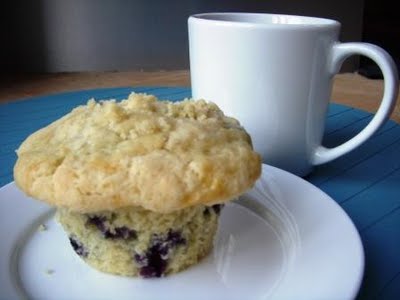 These muffins are incredible! The fresh blueberries bake up sweet and juicy, and the streusel topping adds extra buttery, rich flavor. They are not low fat or low cal, so eat in moderation. I found this recipe at JoyofBaking.com.
Ingredients:
1 cup milk
2 large eggs, lightly beaten
1 teaspoon pure vanilla extract
3 cups all-purpose flour
1 cup granulated white sugar
1 Tablespoon baking powder
1/2 teaspoon salt
1/2 cup unsalted butter, chilled and cut into small pieces
1 1/2 cups fresh or frozen blueberries
1/2 Tablespoon grated lemon zest
2 Tablespoons unsalted butter, melted
Directions:
Preheat oven to 350 degrees F. Place rack in middle of oven.
Line 12-cup muffin pan with paper liners or spray with Pam cooking spray.
In a small measuring cup mix together milk, eggs, and vanilla extract. Set aside.
In a large mixing bowl, combine flour, sugar, baking powder, and salt.
Cut 1/2 cup butter into small pieces and blend into flour mixture with a pastry blender or two knives. The mixture should look like coarse crumbs.
Remove 1 cup of mixture and place in a small bowl to make a streusel topping later.
Gently fold in blueberries and lemon zest.
Add milk and egg mixture to flour mixture. Stir until just combined. (Do not over mix or muffins will be tough when baked.)
Fill each muffin cup almost full with batter, using two spoons or an ice cream scoop.
For streusel topping: Melt remaining 2 tablespoons butter and drizzle over the reserved 1 cup of streusel topping. Mix together with a fork until it is crumbly and looks like coarse meal. Sprinkle a couple teaspoons of the streusel over the top of each muffin.
Place muffins in oven and bake until very lightly browned and firm to the touch and a toothpick inserted in the center comes out clean, about 18 – 20 minutes.
Place on a wire rack to cool.

Related Recipes