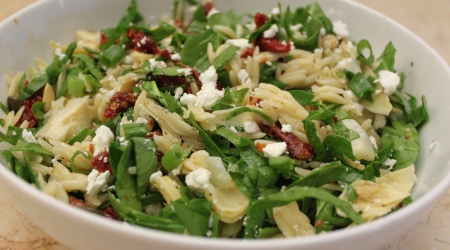 Fresh, light, full of flavor…DELICIOUS! Enjoy this KP original salad.
Ingredients:
1 cup orzo, cooked according to package directions and cooled
2 cups fresh baby spinach leaves, rinsed and chopped
1/2 cup sun-dried tomatoes packed in oil, drained and chopped
4 (oz.) feta cheese, crumbled
1 jar artichoke hearts marinated in oil, drained and chopped (reserve 1 teaspoon oil and toss with salad)
1/4 cup pine nuts, toasted
Juice from 2 fresh lemons
Kosher salt and freshly ground black pepper, to taste
Directions:
Toss everything together in a large bowl and serve immediately!

Related Recipes