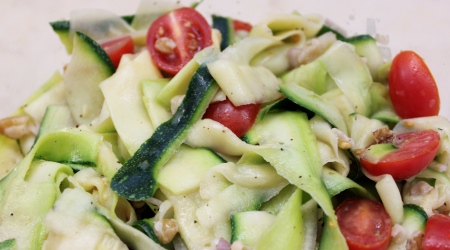 My grocery store gives away a monthly magazine filled with recipes. It's awesome. I found this recipe in last month's issue and made it for my Mom when she was visiting. Two thumbs up from Mom

Sprinkle some freshly grated parmesan cheese on top if ya like!
Ingredients:
4 medium zucchini, rinsed with ends trimmed
1/2 cup grape tomatoes, halved
1 small shallot, thinly sliced
1/2 cup toasted walnuts, chopped
1 Tablespoon extra virgin olive oil
1 Tablespoon sherry vinegar
1 teaspoon Dijon mustard
1 teaspoon granulated sugar
1/4 teaspoon garlic salt
Freshly ground black pepper, to taste
Directions:
In a large bowl, whisk together olive oil, vinegar, Dijon, sugar, and garlic salt until well combined.
Using a vegetable peeler, thinly slice each zucchini into bowl.
Add tomatoes, shallot and pepper, to taste.
Toss to coat.
Cover and refrigerate 1 hour.
Sprinkle with walnuts, toss, and serve.

Related Recipes