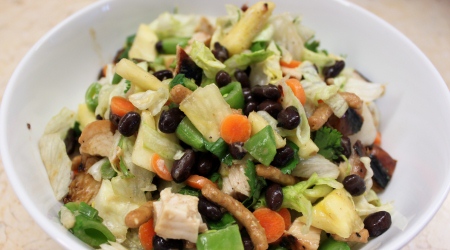 Need another delicious salad idea?? If so, try this KP original packed with fresh ingredients! It's a great combo of Teriyaki grilled chicken, juicy pineapple, and crisp sugar snap peas, all topped with a home-made dressing to die for! Like many of my salad recipes, no exact amounts are given (except for the dressing) so add as much as you like to each salad.
Ingredients:
Grilled chicken breast, that has been marinated overnight in Teriyaki sauce (my favorite is Veri Veri Teriyaki!)
Fresh pineapple, diced
Green onions, diced
Black beans, rinsed
Fresh cilantro, chopped
Carrots, shredded
Sugar snap peas, chopped
Sesame sticks
3 Tablespoons honey
1/4 cup mayo
1 1/2 teaspoons toasted sesame oil
2 teaspoons Dijon mustard
1 1/2 Tablespoons rice vinegar
Pinch of salt
Directions:
To make dressing, whisk together honey, mayo, sesame oil, Dijon, vinegar, and salt.
To make salad, toss remaining ingredients together in a large bowl. Top with dressing, to taste, and serve.

Related Recipes