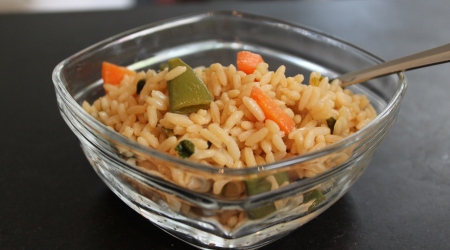 Serve this flavorful rice with any stir fry or Oven Roasted Teriyaki Chicken. With veggies included, you have a complete meal in minutes!
Ingredients:
2 teaspoons extra virgin olive oil
1 Tablespoon soy sauce
1 Tablespoon rice vinegar
1 Tablespoon Dijon mustard
1 Tablespoon honey
1 Tablespoon fresh cilantro, chopped
1/4 teaspoon kosher salt
1/4 teaspoon fresh ground black pepper
1 Tablespoon dark sesame oil
2 fresh carrots, diced
1 cup fresh sugar snap peas, cut in half
4 fresh green onions, chopped
1 clove fresh garlic, minced
3 cups cooked white rice
1 Tablespoon sesame seeds
Directions:
Whisk together soy sauce, vinegar, mustard, honey, cilantro, sesame oil, salt and pepper in small bowl. Set aside.
Heat olive oil oil in large skillet over medium-high heat until hot.
Add carrots, sugar snap peas, green onions and garlic.
Cook and stir 5 minutes or until carrots are crisp-tender.
Add rice and soy sauce mixture.
Stir until well blended and heat thoroughly.
Sprinkle with sesame seeds.

Related Recipes