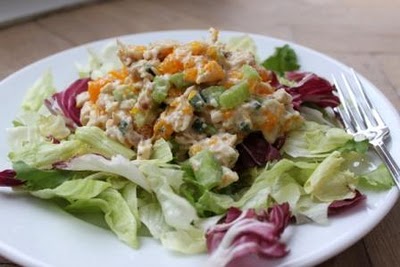 Here's a great spring lunch idea–filled with fresh ingredients! It's a delicious twist on chicken salad. I found the recipe on the back of a Carnation evaporated milk can years ago, but just tried it for the first time. And I'm glad I did–it's yummy!!
Ingredients:
2 Tablespoons granulated sugar
1 Tablespoon flour
1 teaspoon salt
2/3 cup evaporated milk (not condensed milk)
1/3 cup orange juice
1 egg, slightly beaten
3 cups chicken, cooked and chopped
1 1/2 cup celery, diced
3/4 cup sliced almonds, toasted
2 Tablespoons green onions, diced
1 cup mandarin oranges
Lettuce for serving
Directions:
To make dressing, whisk together sugar, flour, and salt in a medium saucepan
Over medium heat, gradually whisk in evaporated milk, orange juice and egg.
Stirring constantly, cook until dressing mixture boils.
Continue cooking and stirring until dressing mixture thickens, about 5 minutes.
Remove from heat and cool dressing completely.
In a large bowl, mix together chicken, celery, almonds, and onions.
Add dressing and gently fold in oranges.
Cover and refrigerate at least 2 hours.
Serve over lettuce.

Related Recipes