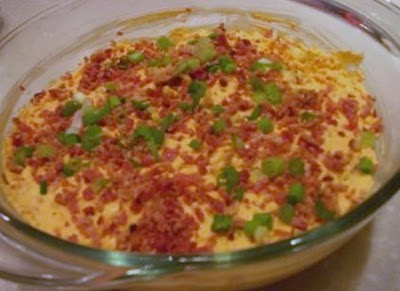 Move over boring french onion dip–here's a fantastic new chip dip to try! The flavor combo of bacon, cheddar, and green onions are bold and savory and taste like a loaded baked potato when dipped with a potato chip. Bring this to your next party and enjoy! I found this recipe in a magazine, but can't remember which one.
Ingredients:
3/4 cup sharp cheddar cheese, shredded
4 oz. cream cheese, softened
1/4 cup sour cream
1/4 cup mayo
1/4 cup bottled roasted red peppers, diced
2 teaspoons Tabasco sauce
Kosher salt, to taste
2 pieces thick-sliced bacon, diced
3 green onions, chopped (about 1/2 cup)
Ridged potato chips for dipping
Directions:
Place all ingredients (except bacon, green onions, and chips) into a food processor and pulse until fairly smooth.
In a small non-stick skillet, cook bacon pieces until crisp. Drain well.
Reserve some bacon bits and chopped green onions for garnish.
Fold remaining bacon bits and green onions into cheese mixture.
Chill at least 1 hour.
Garnish dip with remaining bacon bits and green onions.
Serve chilled with potato chips.

Related Recipes