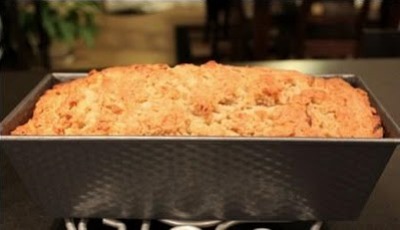 Living in California, I had many chances to eat (and drink) at local breweries. Besides the beer, I loved the fresh baked beer bread, served hot from the oven. So when I came across this recipe in Cooking Light magazine, I knew it was a keeper. This bread is so easy to whip up and so delicious to eat! Goes great with KP Summer Salad, KP Cobb Salad, Creamy Tomato Soup, Cheesy Broccoli Soup, and of course a cold beer!
Ingredients:
1 Tablespoon extra virgin olive oil
1 cup onion, diced
3 cups all-purpose flour
3 Tablespoons granulated sugar
2 teaspoons baking powder
1 teaspoon kosher salt
1 cup Havarti cheese, grated
1 (12-ounce) bottle dark beer
1/4 cup butter, melted and divided
Directions:
Pre heat oven to 375 degrees F.
Spray a 9 x 5-inch loaf pan with Pam cooking spray. Set aside.
Heat olive oil in a large nonstick skillet over medium heat.
Add onion and saute 6 minutes or until tender. Cool to room temperature.
Lightly spoon flour into dry measuring cups and level with a knife.
Combine flour, sugar, baking powder and salt in a large bowl. Make a well in center of mixture.
Add onion, cheese and beer. Stir just until moist.
Spoon batter into prepared loaf pan and drizzle evenly with 2 Tablespoons butter.
Bake for 35 minutes.
Remove from oven and brush with remaining 2 Tablespoons butter.
Bake an additional 20 minutes or until a wooden pick inserted in center comes out clean.
Cool 5 minutes in pan on a wire rack.
Remove from pan and cool completely on wire rack.

Related Recipes