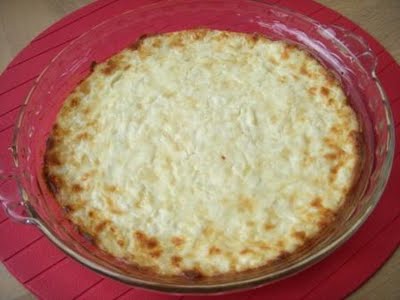 My friend Meg makes this dip and it's gone as soon as it hits the table–people gobble it up! It's simple and delicious–a reminder that great recipes don't have to be complicated. Serve this creamy dip hot from the oven with crackers or thin slices of fresh baguette bread.
Ingredients:
1 cup cream cheese, softened
1 cup white onion, finely diced
1/4 cup mayo
1 cup freshly shredded parmesan cheese (do not use the powdered stuff from a can!)
Directions:
Pre heat oven to 350 degrees F.
In a bowl, mix cream cheese, mayo and onion until well combined.
Stir in parmesan cheese.
Spoon mixture into 9-inch glass pie plate.
Bake 25-30 minutes, until lightly browned around edges and bubbly throughout.

Related Recipes