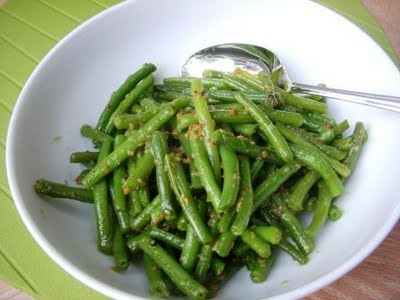 Tired of the same old boring green beans? Then give this simple recipe a try for something different. They're full of flavor and compliment just about any main dish.
Ingredients:
1 Tablespoon extra virgin olive oil
1 Tablespoon sesame seeds
1 lb. fresh green beans
1/4 cup chicken broth
Fresh ground black pepper, to taste
Directions:
Wash and trim green beans. Cut into 2-inch pieces.
Heat olive oil in a large deep skillet over medium-high heat.
Add sesame seeds to oil and toast until seeds just turn golden, stirring frequently.
Stir in green beans and black pepper. Cook until beans are bright green, about 3 minutes.
Pour in chicken broth and bring to a boil. Cover, reduce heat to low and simmer 10 minutes.
Uncover and cook on high heat until liquid evaporates, about 3 minutes.

Related Recipes