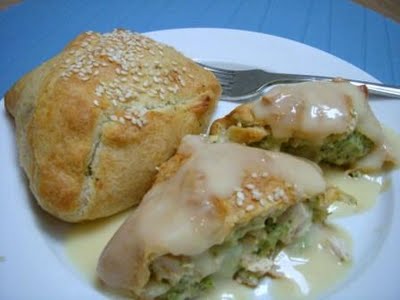 My mom has been making this recipe for years. It was my favorite dinner growing up! And now my husband and toddler love it too. The best part is that it's a balanced meal all-in-one. Serve with a tossed green salad for even more veggies!
Ingredients:
1 package Pillsbury Crescent Rolls (makes 8 crescents)
2 cups fresh steamed broccoli, chopped
2 cups cooked chicken, chopped (a pre-cooked store bought rotisserie chicken works great!)
3/4 cup cream cheese, softened
1/4 cup fresh Parmesan cheese, shredded
2 teaspoons dried minced onion
1/2 teaspoon paprika
1 teaspoon Zenders of Frankenmuth Chicken Seasoning-or-1/2 teaspoon kosher salt
Fresh ground black pepper, to taste
Sesame seeds
1 can condensed cream of chicken soup
2 Tablespoons sour cream
1/2 cup milk
Directions:
Pre heat oven to 375 degrees F.
In a large bowl mix together chopped broccoli, chopped chicken, cream cheese, Parmesan cheese, minced onion, paprika, salt, and pepper to taste. Set aside.
On a clean surface, un-roll crescent rolls and separate into 8 triangles.
Place approximately 1/2 cup of chicken mixture onto center of one crescent triangle. Fold over all corners, enclosing the mixture. Pinch all seams to close. Repeat this process until all crescent triangles are filled and pressed close.
Place filled crescents on a greased cookie sheet.
Spray tops of each crescent with Pam cooking spray, then sprinkle with sesame seeds.
Place into hot oven and bake 15-20 minutes, until golden brown.
While crescents are baking, prepare gravy by whisking together soup, sour cream and milk. Microwave soup mixture for 3-4 minutes, until bubbling and very hot.
Once crescents are done baking, remove from oven and place on individual plates. Spoon hot gravy over each stuffed crescent.

Related Recipes