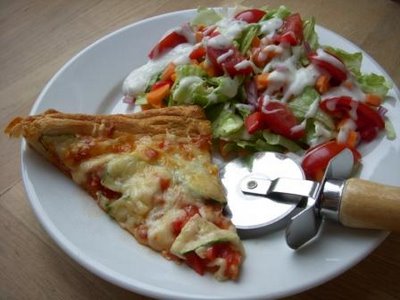 Skip the delivery and make a healthier pizza at home! Enjoy with a salad and you're getting loads of your daily veggies. Here's my favorite way to whip up a pizza at home.
Ingredients:
Pizza Dough (recipe can be found separately on this site)
Garlic powder and sesame seeds to taste
Pizza sauce of your choice (home-made or store bought)
3 cups shredded cheese (Combo's are endless–I usually use 1 1/2 cup mozzarella, 1 cup Gouda, and 1/2 cup fresh shredded Parmesan. Also good with cheddar.)
3/4 cup diced red bell pepper
3/4 cup diced purple onion
3/4 cup fresh mushrooms, cleaned and sliced thin
3/4 cup zucchini, rinsed and sliced thin
Directions:
Pre-heat oven to 400 degrees F.
Spray cookie sheet with Pam cooking spray and press pizza dough into pan.
Spray edges of dough with Pam and generously sprinkle garlic powder and sesame seeds around crust of pizza dough.
Pre-bake crust 5 minutes (with no toppings)
Remove crust from oven and top with pizza sauce of your choice.
Then evenly spread red peppers, onions, mushrooms, and zucchini pieces on top of sauce.
Top with shredded cheese and return to oven.
Bake 10-15 minutes until cheese is golden brown and starting to bubble.
Remove pizza from oven and allow to set for 5 minutes before slicing.

Related Recipes