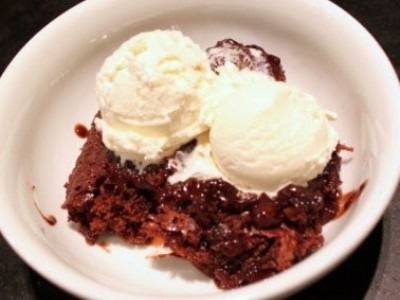 Perhaps you've enjoyed this cake at a restaurant?? Well, no need to order out anymore! This is by far the easiest, most delicious recipe I've come across for ooey-gooey-fudgy lava cake. The best part is you can assemble most ingredients ahead of time, then bake an hour before serving. Top with vanilla bean ice cream for a decadent dessert! Thanks to my friend Jessica for this recipe

Ingredients:
1 1/4 cup granulated sugar, divided
1 cup all-purpose flour
7 Tablespoons Hershey's unsweetened cocoa powder, divided
2 teaspoons baking powder
1/4 teaspoon salt
1/2 cup milk
1/3 cup butter, melted
1 1/2 teaspoon pure vanilla extract
1/2 cup light brown sugar, packed
1 1/4 cup hot water
Directions:
Pre heat oven to 350 degrees F.
Spray 9 x 9-inch baking pan with Pam cooking spray. Set aside.
In a medium bowl, whisk together 3/4 cup granulated sugar, flour, 3 Tablespoons cocoa, baking powder and salt.
Using an electric mixer, beat in milk, melted butter, and vanilla. Beat until smooth. (Batter will be thick.)
Scrape batter into prepared baking pan. Set aside.
In a small bowl, whisk together remaining 1/2 cup granulated sugar, brown sugar, and remaining 4 Tablespoons cocoa.
Sprinkle dry ingredients evenly over cake batter in pan.
IF MAKING AHEAD STOP HERE. Finish assembling and bake 1 hour before serving.
Pour hot water over top of dry ingredients in cake pan. DO NOT STIR.
Once again, DO NOT STIR.
Bake 40 minutes, or until center is almost set.
Remove cake from oven and let set 15 minutes.
Spoon cake into dessert dishes. Be sure to spoon chocolate sauce from bottom of pan over cake.
Top with ice cream, if desired.

Related Recipes