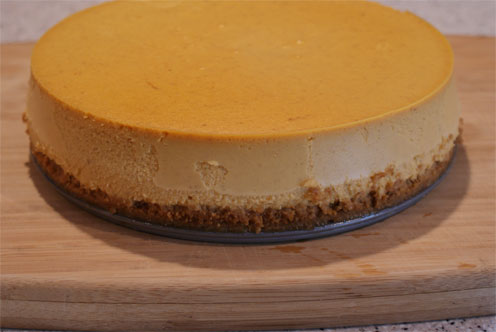 Here's my recipe for a fall favorite cheesecake. It's a hybrid of several other recipes out there–I took all the best parts–and made it my own. Serve a slice with whipped cream or caramel ice cream. Enjoy!
Ingredients:
1 cup crushed gingersnap cookies (about 20 cookies)
1/3 cup pecans, finely chopped
1/4 cup butter, melted
1/4 cup all-purpose flour
2 teaspoons pumpkin pie spice
2 teaspoons pure vanilla extract
1 can (15 oz) pure pumpkin (not pumpkin pie mix)
4 packages (8 oz each) cream cheese, softened
1 cup packed brown sugar
2/3 cup granulated sugar
5 eggs
Directions:
For Crust-
Pre heat oven to 325 degrees F.
In a small bowl, combine cookie crumbs, pecans and butter.
Press crumb mixture into bottom of pan.
Wrap foil around outside of pan to prevent drips.
Bake crust 8 to 10 minutes or until set.
Cool 5 minutes at room temperature.
Refrigerate about 5 minutes or until completely cooled.
For Filling-
Meanwhile, in another small bowl, whisk flour, pumpkin pie spice, vanilla  and pumpkin. Set aside.
In large bowl, beat cream cheese with electric mixer on medium speed until smooth and creamy.
Gradually beat in brown sugar and granulated sugar until smooth.
On low speed, beat in 1 egg at a time just until blended.
Gradually beat in pumpkin mixture until smooth.
Pour filling over cooled crust.
Bake 1 hour 25 minutes or until set but center of cheesecake still jiggles slightly when moved.
Turn oven off and open oven door at least 4 inches.
Let cheesecake remain in warm oven 30 minutes.
Run knife around edge of pan to loosen cheesecake.
Cool in pan on wire rack 30 minutes.
Refrigerate at least 6 hours or overnight before serving.
To serve, run knife around edge of pan to loosen cheesecake.
Carefully remove side of pan before cutting cheesecake.
Store covered in refrigerator.

Related Recipes