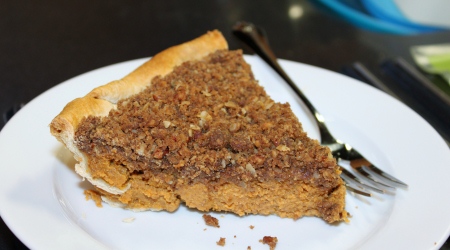 No boring, plain-old pumpkin pie this holiday season! Move over whipped cream–this pie is topped with cinnamon, sugar, oats, and pecans. The recipe comes from Cooking Light magazine, so if you cut the pie into 12 slices (good luck!), then each slice has less than 300 calories. Gobble, gobble!
Ingredients:
3/4 teaspoon ground cinnamon
1/4 teaspoon ground allspice
1/4 teaspoon ground ginger
1/4 teaspoon ground nutmeg
1/8 teaspoon ground cloves
2 eggs
1 (15 oz.) can unsweetened pumpkin puree
1 (14 oz.) can sweetened condensed milk
1 refrigerated pie crust
1/3 cup all-purpose flour
1/3 cup dark brown sugar, packed
1/4 cup oats
1/4 cup pecans, chopped
3/4 teaspoon ground cinnamon
1/8 teaspoon ground ginger
3 Tablespoons chilled butter, cut into small pieces
Directions:
Preheat oven to 375 degrees F.
To prepare pie filling, combine first 8 ingredients in a large bowl. Stir with a whisk.
To prepare crust, fit dough into a 9-inch pie plate coated with cooking spray.
To prepare streusel topping, combine flour and next 5 ingredients (through 1/8 teaspoon ginger) in a bowl. Cut in butter with fingertips until crumbly.
Pour pumpkin mixture into crust.
Sprinkle streusel evenly on top.
Place pie plate on a baking sheet.
Bake 50 minutes or until a knife inserted in center comes out clean.
Remove pie plate from baking sheet.
Cool completely on a wire rack before slicing.

Related Recipes