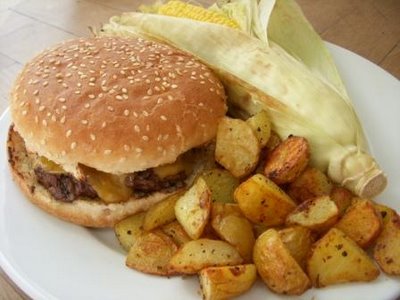 Instead of mashing your next potato, try this easy and tasty way to roast 'em! Roasted potatoes go well with just about any dish, but I like to serve them in place of french fries (in this case with a grilled burger and corn on the cob.) This seasoning mix is my favorite after trying several combinations. You can also just use olive oil and a dry packet of ranch dressing mix (like my sister does). Equally yummy!
Ingredients:
4 cups diced potato (about 4 large baking potatoes–also works well with red skin potatoes)
2 Tablespoons extra virgin olive oil
1/2 teaspoon dried Italian herb mix
1/2 teaspoon onion powder
1/2 teaspoon kosher salt
1/4 teaspoon Lawry's Seasoning salt
Fresh ground black pepper, to taste (I like lots!)
Directions:
Pre-heat oven to 425 degrees F.
Scrub potatoes clean, leaving skins on.
Dice potatoes into 1/2-inch chunks, ensuring pieces are about same size
Spray cookie sheet with Pam cooking spray. Pile potatoes onto cookie sheet.
Add olive oil and all seasonings to potatoes.
Using hands, mix well, until potatoes are evenly covered with oil and seasoning.
Spread seasoned potatoes out on cookie sheet, and avoid over-crowding the pan.
Bake in hot oven for 15 minutes.
Using a metal spatula, scrape and turn potatoes in pan for even cooking.
Return to oven and bake an additional 5-10 minutes, until golden brown. Serve hot.

Related Recipes