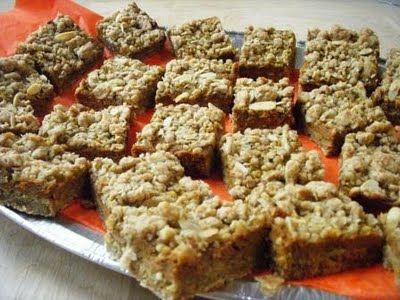 These delicious bars have all the flavors of pumpkin pie–cinnamon, brown sugar, butter, and spice. They're easy to serve at a holiday party and are a huge crowd pleaser! I got this recipe from my husband's Aunt Dolores and have been making them for years.
Ingredients:
1 1/2 cup quick cooking oats
1 1/4 cup all-purpose flour
3/4 cup almonds, slivered
3/4 cup brown sugar, packed
1/2 teaspoon salt
1/2 teaspoon baking soda
3/4 cup butter, softened
1 can (15 oz.) Libby's Pure Pumpkin
2/3 cup milk
1/3 cup brown sugar, packed
1 egg
1 Tablespoon pumpkin pie spice
Directions:
Pre heat oven to 375 degrees F.
Spray 9×13 baking pan with Pam cooking spray. Set aside.
In a large bowl, whisk together flour, 3/4 cup brown sugar, salt and baking soda.
Stir in oats and almonds.
Add softened butter and mix until crumbly.
Reserve 1 1/2 cup crumb mixture. Set aside.
Press remaining mixture firmly onto bottom of prepared baking pan, to form crust.
Bake crust 10 minutes.
While crust is baking, use a clean bowl and beat together pumpkin, milk, 1/3 cup brown sugar, egg, and pumpkin pie spice using an electric mixer. Beat for 3 minutes.
Spread pumpkin mixture over partially baked crust.
Evenly sprinkle remaining crumb mixture on top of pumpkin mixture.
Continue baking 25-30 minutes, or until set.
Cool completely then cut into bars.

Related Recipes