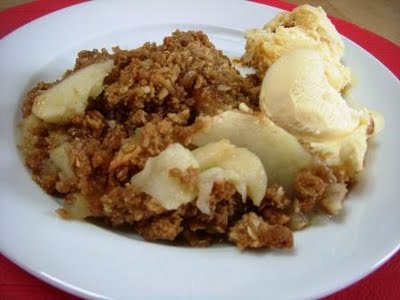 It wouldn't be Fall without baking my Mom's famous apple crisp! The kitchen fills with the smell of cinnamon and apples when its in the oven. Buy ripe, tart apples for the fullest flavor. Serve warm with a scoop of vanilla or caramel ice cream. Happy Fall!
Ingredients:
4 cups tart apples, peeled, cored and sliced
3/4 cup brown sugar, packed
1/2 cup all-purpose flour
1/2 cup quick-cooking oats
1/2 teaspoon cinnamon
1/4 teaspoon nutmeg
1/3 cup butter, softened
Directions:
Pre heat oven to 375 degrees F.
Spray an 8×8 square baking pan with Pam cooking spray.
Arrange apple slices in pan.
In a separate bowl, whisk together brown sugar, flour, oats, cinnamon, and nutmeg.
Using a fork, mix in softened butter until mixture resembles course crumbs.
Evenly spread mixture over apple slices in pan.
Bake un-covered, 25-30 minutes, or until browned on top and apples are tender.

Related Recipes