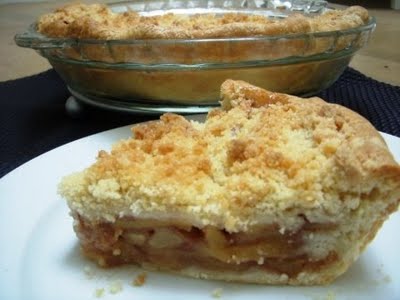 Here's a recipe for the easiest and most delicious apple pie you'll ever bake! It comes from my sister-in-law Amy and it's fantastic. I love the buttery crumble topping over the cinnamon sugar covered apples. Of course you gotta serve it warm with a scoop of vanilla ice cream! I made this for a dinner guest and he called it "heaven on a plate". I agree

Ingredients:
2/3 cup granulated sugar
2 Tablespoons all-purpose flour
1 teaspoon cinnamon
5 large tart apples
1 ready-made pie crust, 9-inches, unbaked
1 cup all-purpose flour
1/2 cup granulated sugar
1/2 cup butter
Directions:
Pre heat oven to 400 degrees F.
Peel, core and thinly slice apples.
Place apples in a bowl and fold in first three ingredients (sugar thru cinnamon).
Place unbaked pie crust in a pie plate.
Fill pie crust with sugar coated apples.
In a separate bowl, combine remaining flour, sugar and butter. Using fngers, mix well until crumbly.
Sprinkle crumb topping evenly over apples in pie crust.
Bake 45-50 minutes. If pie browns too quickly, cover loosely with tin foil.

Related Recipes