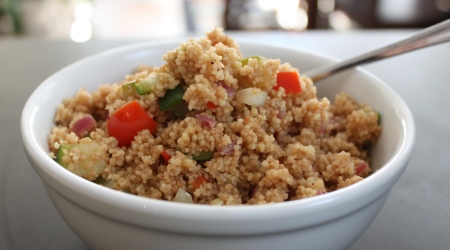 Serve this heart-healthy side dish with Balsamic Grilled Chicken, Simple Grilled Salmon, or Lemon Pepper Grilled Shrimp. Or serve as a main vegetarian dish topped with goat cheese. Yum!
Ingredients:
2 cups dry couscous
Vegetable stock
1 fresh zucchini, diced
1 fresh red onion, diced
2 fresh carrots, diced
2 fresh garlic cloves, minced
1/3 cup balsamic vinegar
Juice from 2 fresh large lemons
1 package Good Seasons dressing mix, dry
1 Tablespoon extra virgin olive oil, plus more for drizzling
Directions:
Cook couscous according to package directions, using vegetable stock instead of water. Fluff with a fork and set aside.
Heat olive oil in a large skillet over medium heat.
Add garlic and cook 1 minute, until fragrant.
Add onion, zucchini, and carrot.
Saute veggies until crisp tender, about 8-10 minutes.
Stir in dry packet of Good Seasons dressing.
Remove from heat and stir in cooked couscous, until well combined.
Stir in balsamic vinegar and lemon juice.
Drizzle with olive oil to taste.
Serve immediately.

Related Recipes