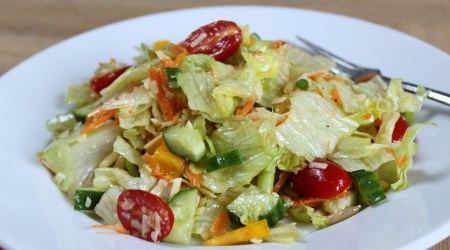 There are literally thousands of ways to toss a salad, but every now and then I stumble upon a combo that tastes particularly good. So I make it again and again and it becomes a family favorite–like this summer salad. Loaded with fresh summer veggies, this salad is colorful, healthy, and compliments any meal. Or top with Balsamic Grilled Chicken for a complete meal. I don't list ingredient amounts below, so toss together as much as ya like!
Ingredients:
Iceberg lettuce
Ripe red tomatoes, chopped
Cucumbers, diced
Carrots, shredded
Yellow bell peppers, chopped
Green onions, chopped
Pine nuts
Parmesan cheese, freshly grated
Directions:
Toss all ingredients together in a large bowl and top with dressing of choice. I recommend Good Seasons Italian Dressing, made with high quality extra virgin olive oil, white wine vinegar, and a teaspoon of dijon mustard.

Related Recipes