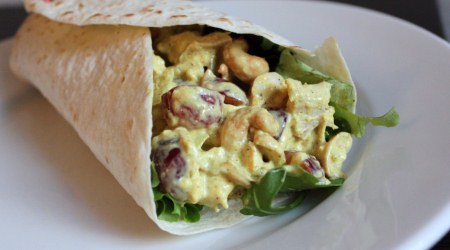 Need a new lunch idea?? Then try this fresh twist on traditional chicken salad. Easy to make and bursting with sweet and spicy fresh flavors. A big thanks to my friend Karynn for sending this recipe to me. Yum!!!
Ingredients:
1/2 cup mayo
1/2 cup plain Greek yogurt
5 teaspoons mild curry powder (my fav is Penzey's sweet curry powder!)
1 Tablespoon freshly squeezed lime juice (do not use bottled)
1 teaspoon honey
1/2 teaspoon ground ginger
Kosher salt and freshly ground black pepper, to taste
3 cups cooked rotisserie chicken, chopped
1 cup red onion, chopped
1 cup celery, chopped
1 fresh firm-ripe mango, peeled, pitted and chopped
1 1/2 cups fresh seedless red grapes, halved
1 cup salted, roasted cashews, chopped
Tortilla wraps and lettuce leaves, for serving
Directions:
In a large bowl, whisk together mayo, yogurt, curry powder, lime juice, honey, ginger, salt and pepper.
Gently mix in all remaining ingredients.
Cover and refrigerate 1 hour.
Layer 2 scoops of chicken salad and fresh lettuce leaves in tortilla and wrap up.

Related Recipes