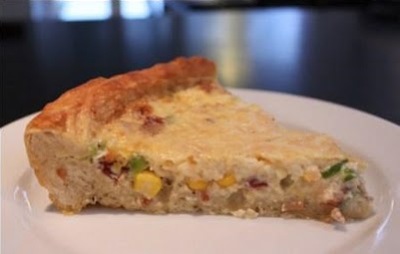 This tart is a fantastic combo of flavors–smokey bacon, sweet corn, and sharp green onions. YUM! It's easy to make and so versatile you can serve it for breakfast, lunch, brunch, or dinner. Pair it with a tossed green salad or fresh fruit salad for a complete meal. This recipe is from Cooking Light magazine.
Ingredients:
2 slices thick-cut bacon, chopped
2 cups frozen corn kernels, thawed
1/2 cup chopped green onions
1 cup heavy cream
1/4 cup freshly grated fresh Parmesan cheese, plus 2 Tablespoons
1/2 teaspoon kosher salt
Freshly ground black pepper, to taste
2 large egg whites, lightly beaten
1 large egg, lightly beaten
1 (10-ounce) can refrigerated pizza crust dough
Directions:
Pre heat oven to 375 degrees F.
Cook bacon slices in a large nonstick skillet over medium-high heat 3 minutes or until bacon is lightly browned.
Add corn and onions and saute 3 minutes.
Place corn mixture in a large bowl. Add cream, 1/4 cup parmesan cheese, salt, pepper, egg whites, and egg. Stir until well blended.
Coat a 10 1/2-inch round tart pan with Pam cooking spray.
Unroll pizza dough onto lightly floured surface. Let rest 5 minutes.
Pat dough into bottom and up sides of prepared pan.
Pour bacon mixture into the dough, and sprinkle with 2 tablespoons parmesan cheese.
Bake at 375° for 25 minutes or until set.
Cool tart in pan 10 minutes on a wire rack.

Related Recipes