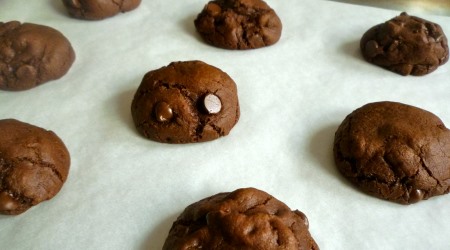 Yeah, sure, they're lowfat because they're tiny, but so what? As long as you don't eat 20 in one sitting, you 're waaaay better off eating these delicious fudgy morsels, than a box of Chips A'hoy. Thanks (once again) to weightwatchers.com for the recipe.
Ingredients:
1/3 cup unsweetened baking cocoa
1/4 cup butter, softened
3/4 cup granulated sugar
4 oz. unsweetened applesauce
1 teaspoon pure vanilla extract
1 1/2 cups all-purpose flour
1 teaspoon baking powder
1/4 teaspoon kosher salt
1/2 cup mini chocolate chips
2 Tablespoon powdered sugar
Directions:
Preheat oven to 375 degrees F.
Coat two nonstick cookie sheets with cooking spray.
Place cocoa,butter and sugar in a medium bowl.
Beat with an electric mixer. until combined.
Add applesauce and vanilla and beat to blend.
In another small bowl, stir together flour, baking powder and salt.
Stir flour mixture into cocoa batter with a wooden spoon.
Stir in chocolate chips.
Shape batter into 48 marble-sized balls (told ya they were tiny!).
Arrange balls 1 inch apart on cookie sheets.
Bake until set, about 8 minutes.
Remove from oven and allow cookies to stand for 1 minute.
Remove to wire rack and cool.
Sprinkle with powdered sugar and serve.

Related Recipes