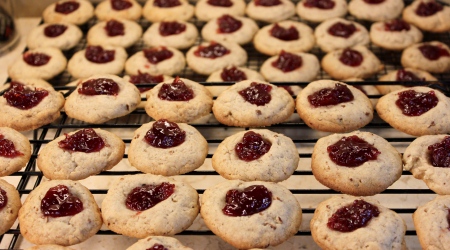 This is THE BEST recipe for thumbprint cookies! The cream cheese and pecans adds such a richness to the cookie. And cherry preserves is hands down my favorite holiday flavor for the filling. But of course you can substitute with your favorite flavor, if you prefer. Plan ahead when baking theses cookies, as the dough needs to chill 30 minutes. Thanks to Kraftrecipes.com for this holiday favorite!
Ingredients:
1 package (8 oz.) cream cheese, softened
3/4 cup butter, softened
1 cup granulated sugar
2 teaspoons real vanilla extract
2 1/4 cups all-purpose flour
1/2 teaspoon baking soda
1 cup chopped pecans
1 1/4 cup cherry preserves
Directions:
Pre heat oven to 350 degrees F.
Beat cream cheese, butter, sugar and vanilla with mixer until blended.
Add flour, baking soda and pecans and mix well.
Refrigerate 30 min.
Shape dough into 1-inch balls.
Place, 2 inches apart, on baking sheets.
Using your thumb, indent centers.
Bake 10 min.
Remove from oven and fill each cookie indent with 1 teaspoon preserves.
Bake additional 8 to 10 minutes, or until golden brown.
Cool on baking sheets 2 min.
Remove to wire racks and cool completely.

Related Recipes