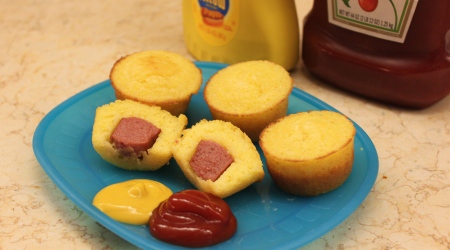 Wondering when to serve these delicious and fun mini corn dogs? Birthday party? Brunch? Snack? Appetizer? Lunch? Yes to all! These bake up super quick and kids love them. (Adults love them too!) They're great dipped in ketchup, mustard, BBQ sauce, or honey mustard.
Ingredients:
1/4 cup butter flavored shortening, melted and cooled
1 cup yellow cornmeal
1/2 cup all-purpose flour
1 Tablespoon granulated sugar
1 teaspoon kosher salt
1 cup buttermilk
1/2 cup milk
1 egg
1 Tablespoon baking powder
1/2 teaspoon baking soda
6 whole hot dogs (all natural, all beef)
Directions:
Preheat oven to 425 degrees F.
Combine corn meal, flour, sugar, and salt in a mixing bowl with a whisk.
In a separate bowl, combine buttermilk, milk, and egg.
Add baking powder and baking soda to the wet ingredients.
Stir into the dry ingredients.
Add melted shortening, stirring constantly.
Spray a mini muffin tin (24 cups) with Pam cooking spray.
Fill each cup a little more than half full with batter.
Cut each hot dog into equal size pieces.
Insert a hot dog piece into each cup filled with batter.
Bake until cornbread is done, about 10 to 12 minutes.

Related Recipes