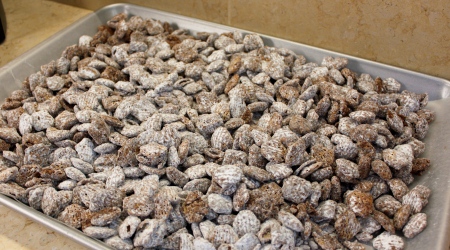 The first time that I ate this amazingly addictive treat was many, many years ago, but it was called "Puppy Chow". Somehow I cannot bring myself to call a people food by a pet-food name (applicable as it may be). Hence my new name for an old treat

If you never tried this before, I think that you should–it takes about 6 minutes to make and about 5 minutes to devour!
Ingredients:
9 cups Crispex cereal
1 cup semi-sweet chocolate chips
1/2 cup natural peanut butter, creamy
1/4 cup butter, softened
1 teaspoon pure vanilla extract
1 1/2 cups powdered sugar
Directions:
Pour cereal into large bowl. Set aside.
In a 1-quart microwave-safe bowl, combine chocolate chips, peanut butter and butter.
Microwave at high power for 1 to 1 1/2 minutes or until smooth, stirring after 1 minute.
Stir in vanilla.
Pour chocolate sauce slowly over cereal, stirring to coat evenly.
Pour cereal into large plastic bag.
Add powdered sugar and secure. Shake to coat well.
Spread on waxed paper, in a single layer.
Cool completely.
Store in an airtight container.

Related Recipes