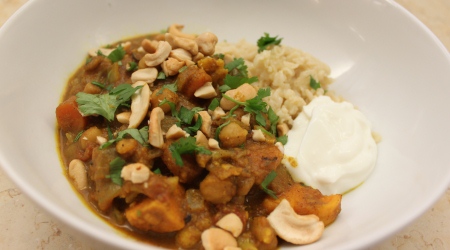 This recipe is for you Nicky! Serve this easy curry over brown basmati rice, with a scoop of plain Greek yogurt, topped with cashews and fresh cilantro. Delicious!
Ingredients:
2 Tablespoons extra virgin olive oil
2 cups diced peeled sweet potato, par-boiled
1 cup carrots, peeled and diced
1 cup small cauliflower florets
1 cup thinly sliced yellow onion
4 Tablespoons sweet, mild curry powder
1/2 teaspoon kosher salt
1/4 teaspoon cinnamon
1/4 teaspoon turmeric
1/4 teaspoon cayenne pepper
1/2 teaspoon ground coriander
1 1/2 cup vegetable broth
1 (15-ounce) can chickpeas, rinsed and drained
1 (14.5-ounce) can fire-roasted diced tomatoes, undrained
2 Tablespoons chopped fresh cilantro
2 Tablespoons cashews
1/2 cup plain Greek yogurt
Rice for serving, prepared according to box directions
Directions:
Heat olive oil in a large, deep nonstick skillet over medium-high heat.
Add par-boiled sweet potatoes and carrots to pan. Saute 3 minutes.
Decrease heat to medium.
Add cauliflower, onion, and all spices. Cook 1 minute, stirring mixture constantly.
Add broth, chickpeas, and tomatoes and bring to a boil.
Cover, reduce heat to low, and simmer 20 minutes or until vegetables are tender, stirring occasionally.
Serve over rice with a scoop of yogurt.
Top with cashews and cilantro.

Related Recipes