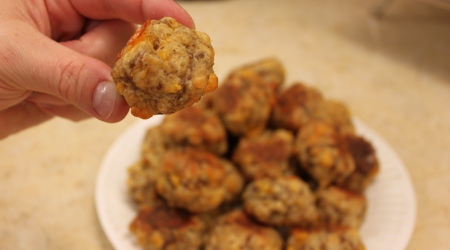 These are super easy to make and work well as an appetizer served with dip, or served with a side salad for lunch, or served with eggs for brunch. This recipe makes a lot, so have fun eating them for all meals!
Ingredients:
3 cups Bisquick Baking Mix
1 lb. breakfast sausage, un-cooked
2 cups sharp cheddar cheese, shredded
1/2 cup parmesan cheese, grated
1/2 cup milk
1/2 teaspoon dried oregano
1/2 teaspoon dried parsley
Freshly ground black pepper, to taste
Directions:
Pre heat oven to 350 degree F.
Spray baking sheet with Pam cooking spray.
Using clean hands, combine all ingredients in a large bowl.
Shape mixture into 1-inch balls.
Place on cookie sheet and bake 10 minutes.
Remove tray and flip each ball.
Return to oven and bake additional 10-12 minutes or until browned.
Serve immediately while warm.

Related Recipes