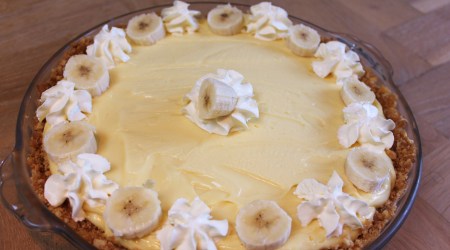 Happy Birthday to my hubby!!! We celebrated with his favorite pie. This is easy to make and deeeeeeelicious! Thanks to Eagle Brand for the recipe.
Ingredients:
3 Tablespoons cornstarch
1/4 teaspoon kosher salt
1 1/2 cups water
1 (14 oz.) can sweetened condensed milk
3 large egg yolks, beaten
2 Tablespoons butter
2 teaspoons pure vanilla extract
1 (9-inch) prepared baked pie crust or graham cracker crust
2 medium bananas
Whipped cream and additional banana slices, for serving
Directions:
Stir together cornstarch, salt and water in heavy saucepan.
Whisk in sweetened condensed milk and egg yolks.
Cook and stir over medium heat until thickened and bubbly, about 7 minutes.
Remove from heat.
Add butter and vanilla. Cool slightly.
Place about 1/2 cup filling in bottom of pie crust.
Slice 2 bananas. Place evenly on top of filling in crust.
Pour remaining filling over bananas.
Cool at room temperature 10 minutes.
Cover with plastic wrap.
Refrigerate 3 to 4 hours or until set.
Serve with whipped cream and extra banana slices.

Related Recipes