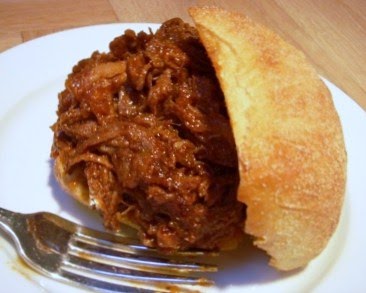 Here's a recipe that I received years ago at my wedding shower, from a family friend. It' so easy and so good–you have to try it! The beef cooks up incredibly soft and tender and the sauce is delicious! Serve this barbecue beef on a toasted roll with a side of creamy cole slaw and sweet potato fries for a great meal.
Ingredients:
3 1/2 lbs. boneless chuck roast beef
1 medium onion, diced
2 1/2 cups ketchup
2 teaspoons cider vinegar
1 teaspoon sugar
1 teaspoon dry mustard
1 teaspoon salt
1 teaspoon allspice
Directions:
Pre heat oven to 350 degrees F.
Trim any fat off beef.
Place beef in oven safe roasting pan with lid.
In a bowl, whisk together all other ingredients. Pour sauce over beef.
Bake, covered, 4 hours.
Baste every hour.
Remove from oven and shred beef with two forks. Stir until well coated with sauce.
Note: You may also prepare this in a Slow Cooker. Place beef and sauce in Slow Cooker. Cover and cook on low for 6-8 hours. Baste every hour for the last 3 hours.

Related Recipes