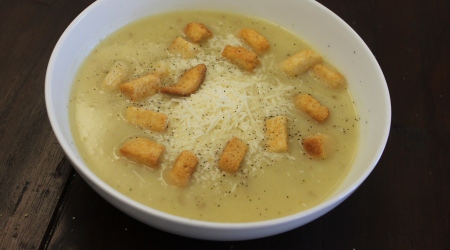 Try this easy and delicious KP original soup recipe! Many Potato Leek soups call for cream or buttermilk, but I don't think you need it at all. This soup is still rich and creamy thanks to the potatoes and full of flavor thanks to the wine and spices. If you want to add any extras, save it for the toppings. I topped my bowl with a handful of freshly grated parmesan cheese, black pepper, and garlic croutons. You could also toss on some chopped bacon or add a dash of Tabasco. Whatever you do, I think you'll like it!
Ingredients:
5 medium russet potatoes, scrubbed, skin on, diced
4 leeks, trimmed and washed
2 stalks celery, chopped
4 cloves fresh garlic, chopped
1 cup dry white wine
7 cups chicken broth
1 Tablespoon butter
3 Tablespoons extra virgin olive oil
1 teaspoon dried marjoram
1/4 cayenne pepper
Freshly ground black pepper and kosher salt, to taste
Directions:
Trim and wash leeks. Cut into thin slices.
In a large soup pot over medium heat, add olive oil and butter.
Add leeks and cook over medium heat, stirring occasionally 3-4 minutes, until softened but not browned.
Add celery and cook 3 minutes.
Add garlic and cook 1 minute.
Add wine and cook 3 minutes.
Add broth to pot, turn up heat, and bring to a boil while stirring.
Lower heat, cover and simmer 20 minutes, until potatoes are soft.
Remove from heat.
Add marjoram, cayenne, and salt to taste.
Using an immersion blender, blend contents of pot to a smooth consistency.
Ladle into bowls.
Sprinkle with freshly ground black pepper, grated parmesan cheese, and croutons to serve.

Related Recipes