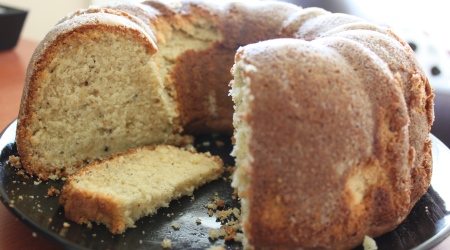 My favorite sweet treat to get at my local coffee shop is a slice of almond cake. It's sweet and moist and full of that distinct almondy flavor. I love how it tastes with a cup of strong coffee. So I hunted down a recipe that tastes exactly like my favorite treat (found this in the San Jose Mercury News Food section). And now I know why I love the cake so much–the recipe calls for a whopping 3 sticks of butter! So I recommend sharing this cake with neighbors or serving it at your next brunch. I baked it and shared it with my kid's teachers–quite literally buttering them up

Ingredients:
4 eggs
1 1/3 cup sour cream, divided
1/2 teaspoon vanilla extract
2 teaspoons almond extract
3 1/3 cups sifted cake flour
4 oz. sliced almonds, toasted and finely ground
2 cups granulated sugar
1 teaspoon baking powder
1 teaspoon baking soda
1/2 teaspoon kosher salt
3 sticks butter, softened
Powdered sugar, for dusting
Directions:
Pre heat oven to 350 degrees.
Spray and sugar a 10-inch bundt pan.
Combine eggs, 1/3 cup sour cream, and both extracts in a small bowl. Set aside.
Using an electric mixer, combine dry ingredients and mix on low speed for 30 seconds to blend.
Add butter and remaining sour cream.
Mix on low speed until dry ingredients are moistened.
Increase to medium speed (high if using a hand mixer) and beat for 1 1/2 minutes. Scrape down the sides.
Gradually add egg mixture in 3 batches, beating 20 seconds after each.
Scrape batter into pan and smooth surface.
Bake 45-55 minutes or until a cake tester inserted in the center comes out clean and the cake springs back when pressed lightly. (The cake should start to shrink from the sides only after removal from oven.)
Let cool on a rack for 10 minutes.
Loosen sides with a small metal spatula and un-mold.
Cool completely before slicing with a cake knife.
Dust with powdered sugar when ready to serve.

Related Recipes