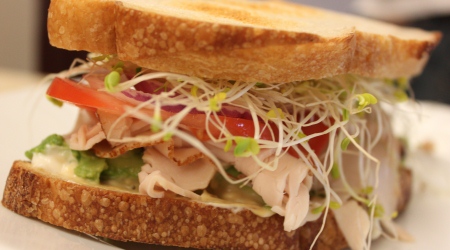 You know when you make "the perfect sandwich"? When you get all the ingredients just right? When everything comes together in one gorgeous, mouth-watering, masterpiece? Well my friends, that is exactly what's going on here! So grab yourself a napkin, some chips, and get comfy. Cause this may just be "the perfect sandwich"!
Ingredients:
(I don't list quantities, so go crazy–use as much as ya like!)
Fresh sourdough bread (I'm talking the stuff from the bakery, that's still warm)
Roasted turkey lunch meat (Boar's Head is my favorite)
Freshly sliced tomato
Thinly sliced red onion
Fresh avocado, slightly smashed and seasoned with garlic salt and pepper
Alfalfa sprouts
Mayo
Dijon mustard
Directions:
Spread both sides of sliced sourdough with mayo and Dijon.
Spread half an avocado on one side.
Pile on the rest and dig in!

Related Recipes