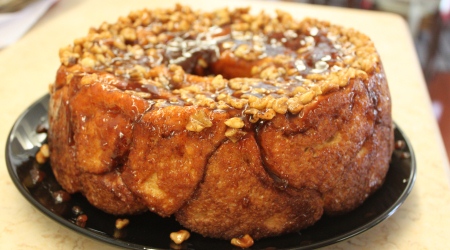 I have no idea why this is called "Monkey Bead". But honestly, they can call it whatever they want, as long as I can eat it. This is really easy to make and really, really, really delicious to eat.  It's everything a coffee cake should be–sweet and gooey and nutty. Serve it warm with coffee. One tip–I prepare this the night before and let it rise in the oven (turned OFF of course) overnight. Then I bake it in the morning. Recipe comes from the back of the Bridgford Rolls package.
Ingredients:
1 package (24 rolls) Brigford Parkerhouse Style rolls, frozen
1/4 cup granulated sugar
1 cup brown sugar, packed
1 package (3 3/4 oz.) butterscotch pudding (not instant)
2 teaspoons ground cinnamon
1/2 cup pecans, chopped
1/2 cup butter, melted
Directions:
Spray an angel food tube pan with Pam cooking spray and set aside.
In bowl, combine sugar, brown sugar, dry pudding mix and cinnamon.
Sprinkle 1/4 cup sugar/pudding mixture into prepared pan.
Sprinkle pecans evenly in pan.
Dip each piece of frozen dough in melted butter, then roll in sugar/pudding mix to coat.
Layer evenly in prepared pan.
Let dough rise in a warm area, until double in size or until dough reaches just under top rim of pan.
Pre heat oven to 350 degrees F.
Place filled tube pan on a cookie sheet and place in oven.
Bake 25-35 minutes, until golden brown.
Turn out of pan immediately and serve warm.

Related Recipes