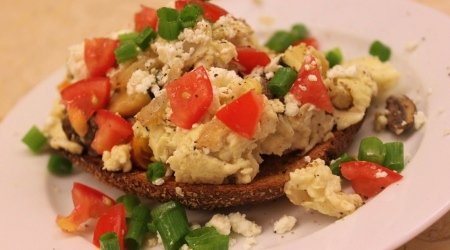 Here's one I made up as I went along. But it turned out so good, I think you should try it! This recipe makes enough for one person (if you're hungry)–or share it with someone ya love and serve with fresh melon slices.
Ingredients:
3 eggs
1 Tablespoon water
1 Tablespoon red bell pepper, chopped
1 Tablespoon fresh mushrooms, cleaned and chopped
1 Tablespoon purple onion, chopped
1 Tablespoon zucchini, diced
1 fresh garlic clove, minced
1 Tablespoon extra virgin olive oil
2 slices whole wheat bread
1/4 cup feta cheese, crumbled
1 Tablespoon fresh tomato, diced
1 Tablespoon green onion, diced
Freshly ground black pepper and garlic salt, to taste
Directions:
In a small bowl, whisk together eggs and water. Set aside.
Heat olive oil in a large skillet over medium heat.
Add bell pepper, mushroom, purple onion, zucchini, and garlic.
Saute 8 minutes or until tender.
Pour in eggs and cook 5 minutes, stirring occasionally with a spatula.
Season with garlic salt and pepper.
Toast bread slices (and butter 'em if ya wanna).
Places toast (open-faced) on a plate and top with cooked egg mixture.
Sprinkle with feta, tomato, and green onions.
Dig in!

Related Recipes