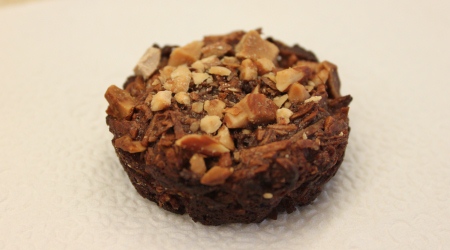 I love that tiny little food magazine, called Everyday Food. Not only is it cute looking, but it has some really good recipes, like this one! I made these delicious cookies last night and brought them to a concert-in-the-park with friends. Big hit! They are light and chewy and best of all, easy to pack in the picnic basket. I literally whipped them up in 10 minutes. Hope you like 'em too!
Ingredients:
2 large egg whites
1/4 cup granulated sugar
2 Tablespoons unsweetened cocoa powder
1/4 teaspoon salt
1 package (7 oz.) sweetened shredded coconut
1/2 cup sliced almonds
Directions:
Preheat oven to 350 degrees F.
Coat a (12-cup) nonstick muffin tin with Pam cooking spray.
In a large bowl, whisk egg whites, sugar, cocoa powder, and salt until combined.
Add coconut and mix with a fork until coated.
Dividing evenly, spoon mixture into prepared tin, and pat in gently with moistened fingers.
Sprinkle with almonds, and pat on gently.
Bake until almonds are golden, 25 minutes.
Cool 10 minutes in tin.
Run a thin metal spatula around macaroons to loosen them from pan and turn out onto rack.
Cool completely.
Cookies keep in an airtight container at room temperature up to 3 days.

Related Recipes