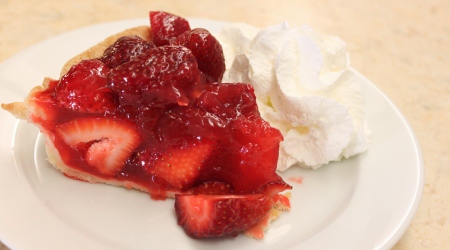 Run to your nearest fruit market and buy bushels of fresh summer strawberries while they're in season. Then take the time to make this incredible pie–you won't be disappointed! This recipe comes from my mother-in-law and is a family favorite. Plan ahead as it refrigerates 8 hours before serving. Serve with fresh whipped cream for pure enjoyment!
Ingredients:
1 (9 inch) refrigerated pie crust
2 lbs. fresh strawberries
2 Tablespoons corn starch
1 cup sugar
1 1/2 cup water
1 (3oz) strawberry JELLO
Directions:
Bake pie crust as directed and set aside to cool.
In a sauce pan, whisk together corn starch and sugar. Add in water and turn on heat.
While whisking continuously, bring mixture to a boil and boil for 1 minute.
Remove from heat and whisk JELLO into hot mixture. Stir until completely combined. Set aside to partially cool.
Rinse strawberries and remove stems. Cut large strawberries in half.
Pile strawberries into cooled pie crust, covering the bottom and sides completely.
Pour cooled JELLO mixture over strawberries, making sure to cover every berry with sauce. (Note: you may have extra sauce that doesn't fit in the pie crust. Discard extras.)
Cover tightly with plastic wrap and refrigerate at least 8 hours before serving (allowing JELLO to set completely).

Related Recipes