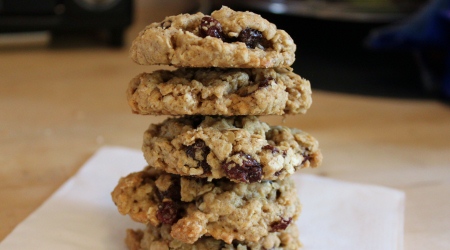 This recipe comes strait off the Quaker Oats lid. I did use a little less butter, and a bit more cinnamon, and they turned out incredible! The perfect balance of sweetness from cinnamon and sugar, and chewiness from oats and raisins.
Ingredients:
1/2  cup, PLUS 4 Tablespoons butter, softened
3/4  cup firmly packed brown sugar
1/2  cup granulated sugar
2  eggs
1  teaspoon vanilla
1 1/2 cup all-purpose flour
1  teaspoon baking soda
1 1/2  teaspoon ground cinnamon
1/2  teaspoon salt
3 cups oats
1 cup raisins
Directions:
Pre heat oven to 350 degrees F.
In large bowl, beat butter, brown sugar, and sugar on medium speed of electric mixer until creamy.
Add eggs and vanilla and beat well.
In a separate bowl, whisk together flour, baking soda, cinnamon and salt.
Add flour mixture to butter mixture, mixing well with a spoon.
Add oats and raisins and mix well with a spoon.
Drop dough by rounded tablespoonfuls onto un-greased cookie sheets.
Bake 8 to 10 minutes or until light golden brown.
Cool 1 minute on cookie sheets.
Remove to wire rack and cool completely.
Store tightly covered.

Related Recipes