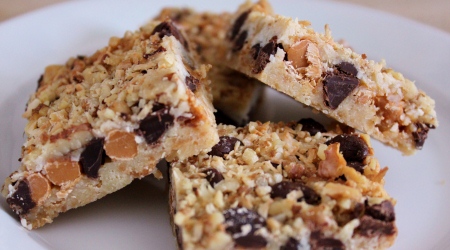 Got a sweet tooth that needs a fix? Then try these incredible bars! Sweet, rich, and gooey–everything a cookie bar should be. My mom made these every Christmas of my childhood. One bite brings back many sweet memories

The recipe comes straight off Eagle Brand's web site.
Ingredients:
1 1/2 cups graham crackers, crushed into crumbs
1/2 cup butter, melted
1 (14 oz.) can sweetened condensed milk
1 cup butterscotch chips
1 cup semi-sweet chocolate chips
1 1/3 cups flaked coconut
1 cup chopped walnuts
Directions:
Pre heat oven to 350 degrees F.
Line a 9×13 pan with foil, extending foil over edge of pan. Coat lightly with Pam cooking spray.
In a small bowl, combine graham cracker crumbs and butter. Mix well.
Press crumb mixture firmly into bottom of prepared pan.
Pour sweetened condensed milk evenly over crumb mixture.
Layer evenly with remaining ingredients.
Press down mixture carefully but firmly with clean hands.
Bake 25 minutes or until lightly browned.
Cool on wire rack.
After bars have baked and cooled, lift up by edges of foil to remove from pan. Cut into individual bars.
Store leftovers in the fridge.

Related Recipes