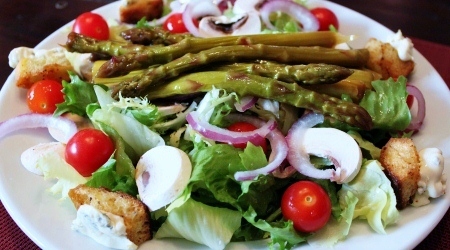 I love a good salad. And this is a really good salad! I've had this recipe for marinated asparagus for years, but never really knew what to do with them. By adding them to a salad, they become a meal! Plan ahead as the asparagus needs to marinate at least 8 hours. For a fantastic meal, buy good quality blue cheese and take the time to make fresh baked croutons. I don't list quantities for the salad ingredients. Just throw together as much as you want–it's all good stuff!
Ingredients:
1 1/2 lbs. fresh asparagus spears
1/4 cup white wine vinegar
1/4 cup soy sauce
2 Tablespoons extra virgin olive oil
2 Tablespoons granulated sugar
Fresh spring salad greens
Fresh cherry tomatoes
Fresh red onion, thinly sliced
Fresh mushrooms, cleaned and sliced
Blue cheese
Fresh baked croutons
Directions:
To snap the ends off each asparagus spear, hold it with both hands and gently bend it until it naturally breaks.
Blanch trimmed asparagus spears by dropping them in a large pot of boiling water for 1 minute. Remove and immediately plunge into a bowl of ice cold water so the spears stop cooking. Drain and pat dry. Set aside.
Whisk together vinegar, soy sauce, olive oil and sugar in a bowl. Continue whisking until sugar dissolves.
Place asparagus in a 9×13 casserole dish. Pour marinade on top. Cover and refrigerate at least 8 hours.
To make salad, pile lettuce greens on a plate. Top with desired amounts of tomatoes, onions, and mushrooms.
Spread blue cheese on several croutons and add to plate.
Top with marinated asparagus spears.
Drizzle some of the marinade on top of the salad. Enjoy!

Related Recipes