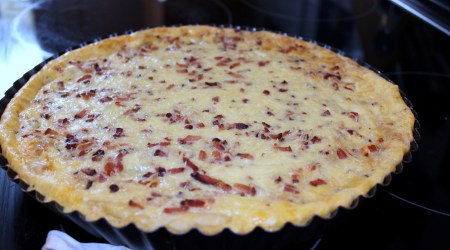 Here's a delicious French recipe for you! This quiche is traditionally made with lots of thick cut bacon, not ham as you may have guessed. It's rich, salty, and savory. Great for breakfast served with fruit, or for lunch paired with a simple salad. I'm happy to say that this recipe tastes just as good as the quiche from my neighborhood bakery

Ingredients:
Refrigerated 9-inch pie crust
2 cups thick cut bacon, chopped
1 Tablespoon dried minced onion
5 eggs, beaten
1 cup milk
1/2 cup heavy cream
1/4 teaspoon white pepper
2 cups Swiss cheese, shredded
1 Tablespoon all-purpose flour
Directions:
Pre heat oven to 325 degrees F.
Press prepared pie crust into pie plate and set aside.
In a large skillet, cook chopped bacon until crisp. Drain and set aside to cool.
In a large bowl, whisk together milk, cream, pepper and eggs.
Stir in cooked bacon and dried minced onion.
In a separate bowl, toss cheese and flour together.
Add to cheese with flour to egg mixture and mix well.
Pour mixture into prepared pie crust.
Bake 35 minutes, or until knife inserted in center of quiche comes out clean.
If necessary, cover edge of crust with foil while baking to prevent over-browning.
Let stand for 10 minutes before serving.

Related Recipes