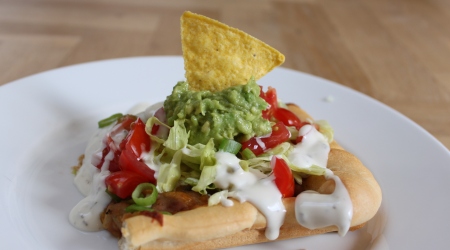 Can't decide between pizza or Mexican tonight? Then why not try both! This recipe combines all the delicious flavors of Mexican food with the ease of a slice of pizza. This version is vegetarian, but you could also add taco meat if you wanted. Enjoy!
Ingredients:
Pizza Dough (recipe can be found separately on this site)
1 cup refried beans
1 cup fresh tomato salsa
1 cup frozen corn, thawed
1 cup Mexican blend cheese, shredded
1/2 cup fresh green onions, chopped
1/2 cup fresh tomato, chopped
1/2 cup fresh iceberg lettuce, shredded
1/2 cup fresh guacamole
Ranch dressing, to taste
Directions:
Pre heat oven to 425 degrees F.
Mix together refried beans and salsa until blended. Set aside.
Roll out pizza crust onto cookie sheet that has been sprayed with Pam. Press to fit.
Pre-bake crust 5 minutes. (With no toppings)
Remove crust from oven and using a spatula, spread bean mix evenly onto crust.
Scatter corn evenly over bean mix.
Scatter cheese evenly over corn.
Bake 15-20 minutes, or until crust is golden brown and cheese is melted.
Remove from oven and cool 5 minutes.
Top with lettuce, green onions, tomatoes, and guacamole.
Drizzle with Ranch dressing and serve.

Related Recipes