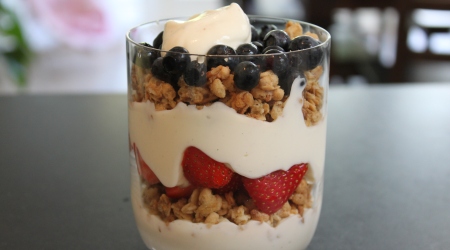 I have a new appreciation (and addiction) to yogurt since moving abroad. Words cannot describe how amazing yogurt is in Europe! It's thicker, creamier, yet not as sweet as in the States. Vanilla is my favorite flavor–boring, I know, but it tastes like frosting, I swear! I love making these parfaits for breakfast. Use any fruit you have on hand, though berries are my fav. I've not included exact amounts in this recipe, so use as much as you like of everything. But don't fool yourself–this is a very sweet breakfast…sugar in the yogurt, in the fruit, and in the granola. So if you enjoy one for breakfast, go easy on sweets the rest of the day.
Ingredients:
Vanilla yogurt
Maple-Nut Granola
Fresh strawberries
Fresh blueberries
Directions:
In a glass, layer yogurt, followed by granola, followed by fruit.
Repeat until glass is filled.
Serve chilled.

Related Recipes