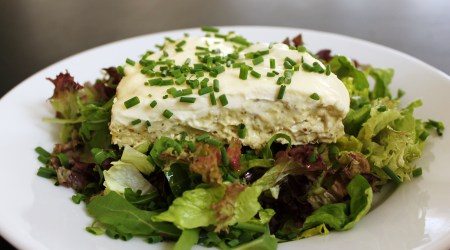 Here's a recipe that sounds more complicated then it is. It's rich, creamy, and delicious! Simple to put together, but everyone will think you did tons of work. It's a great summer lunch idea, so try it next time you're having friends over. Found this recipe years ago in a magazine, but don't remember which one.
Ingredients:
2 (8-oz) packages cream cheese, softened
2 eggs
3 Tablespoons all-purpose flour, divided
1 cup prepared pesto
1 cup cooked chicken, chopped
1 cup sour cream
1 Tablespoon fresh chives, chopped
Mixed salad greens, for serving
Directions:
Pre heat oven to 325 degrees F.
Spray 9-inch springform pan with Pam cooking spray. Set aside.
Using an electric mixer at medium speed, beat cream in a large bowl until smooth.
Add eggs, 2 Tablespoons flour and pesto. Beat until blended.
Stir in chicken.
Pour into prepared pan.
Bake 25 minutes.
Meanwhile, stir together remaining 1 Tablespoon flour with sour cream.
Remove from oven and gently spread sour cream mixture on top.
Return to oven and continue baking additional 15 minutes.
Cool on wire rack 10 minutes.
Gently run knife around edges of pan and release sides.
Slice and serve hot or cold over mixed salad greens.
Garnish with chives.

Related Recipes