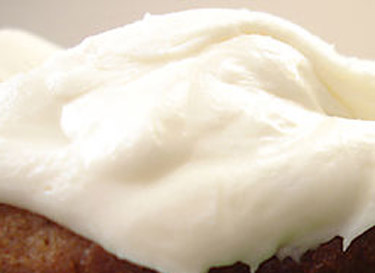 Here's a simple and delicious recipe for home-made cream cheese frosting. It's great on so many cakes–carrot, banana, chocolate, strawberry, you name it! I'm going to plead with you to never again buy canned frosting. It's a terrible product filled with artificial ingredients and hydrogenated oils. Blech! It's really not much more time and effort to whip up the real deal. And the real stuff tastes so much better! OK, lecture over

Ingredients:
1/2 cup cream cheese
1/4 cup butter, softened
2 teaspoons vanilla extract
1/8 teaspoon salt
2 3/4 cups powdered sugar, divided
Directions:
Place cream cheese, softened butter, vanilla, and salt in a large bowl.
Beat with electric mixer at medium speed until smooth.
Gradually add 2 cups powdered sugar, beating at low speed until smooth (do not over beat).
Stir in remaining 3/4 cup powdered sugar.
Cover and chill 30 minutes.
Spread frosting over top of desired cake.

Related Recipes