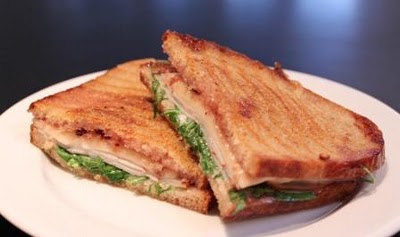 Here's another one for my cousin-in-law Julie! A fresh alternative to the classic grilled cheese. This sandwich marries Fresh Cranberry Sauce with savory smoked turkey and Swiss cheese. And since you'll have fresh arugula on hand, serve this sandwich with a side arugula salad for a delicious lunch. I've listed the ingredients below without specific measurements, so use amounts according to taste preferences. I cooked this in my grill pan for panini-looking toast, but any skillet will do.
Ingredients:
2 pieces fresh dense bread, thinly sliced (rye or sourdough preferred)
Butter
Mayo
Fresh Cranberry Sauce (recipe on this website)
Swiss cheese, thinly sliced
Smoked turkey breast, thinly sliced
Fresh arugula, rinsed
Directions:
Heat skillet over medium heat.
Butter one side of each slice of bread.
On opposite side of 1 piece of buttered bread, spread cranberry sauce.
On opposite side of 2nd piece of buttered bread, spread mayo.
Place one piece of bread (butter-side down) into hot skillet.
Top with Swiss cheese slices.
Top with smoked turkey slices.
Top with arugula.
Top with second piece of bread, butter-side facing up.
Cook 5-7 minutes.
Using a large spatula, carefully turn sandwich over.
Cook additional 5-7 minutes, or until bread is golden brown and cheese is melted.
Remove from skillet with spatula and allow to set 5 minutes before slicing.

Related Recipes