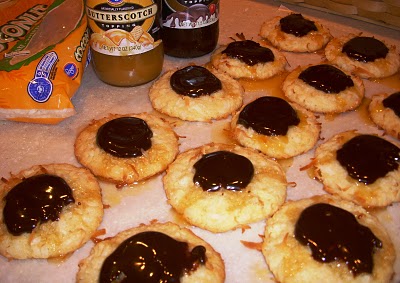 These cookies taste just like the Girl Scout Samoas cookies! They are sweet, rich, chewy and easy to make. I found this recipe on BettyCrocker.com.
Ingredients:
1 pouch Betty Crocker Sugar Cookie mix (1 lb 1.5 oz.)
1/2 cup butter, melted
1 egg
1 1/2 cup sweetened flaked coconut
1/2 cup butterscotch topping
3/4 cup hot fudge topping
Directions:
Pre heat oven to 375 degrees F.
In a large bowl, mix together cookie mix, melted butter and egg until a soft dough forms.
Shape dough into 1-inch balls.
Roll each ball into coconut.
Place balls onto ungreased cookie sheet 2 inches apart.
Bake 9 to 11 minutes or until edges are slightly browned and coconut starts to toast.
Once baked, allow to cool on cookie sheet 3 minutes.
Remove from cookie sheet and place on waxed paper.
Drizzle butterscotch topping onto each warm cookie.
In a small microwavable bowl, microwave fudge topping, uncovered on high, 15 to 30 seconds, or until spreadable.
Carefully spread equal amounts of fudge on top of each cookie.
Cool completely. Store loosely covered.

Related Recipes